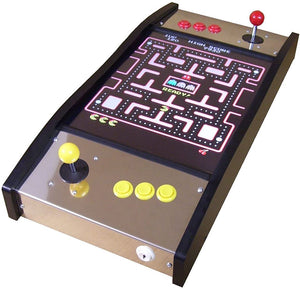 Table top/ Bar top style table arcade machines with sixty classic arcade games built in.
The arcade machine is manufactured to very high specifications, it looks as awesome as it is fun to play.
These bartop arcade machines are designed and built exclusively by Arcade Depot, Smaller and more portable than a full sized Cocktail Table Arcade and yet they pack a full Jamma sixty multigame arcade PCB with full 19" LCD display and full sized pro arcade joysticks at either end for full two player arcade action.
Melamine Coated MDF Cabinet
Acrylic Screen Protector

Steel control panels
19" Super VGA monitor
Genuine Sanwa joysticks.
60 Amazing arcade classics built in, see list below. (can upgrade to 516)
Height 11cm, width 36cm, length 80cm.
Sound 5w speaker.
Free play mode, no coin is needed to play.
Please note that the control panels are brushed stainless steel and not polished stainless steel as pictured. The themed versions have vinyl decals over mild steel.
Included Games: please note that we are unable to add any other games.
1 Ms Pacman
21 Galaga
41 Frogger
2 Donkey Kong
22 Donkey Kong Junior
42 Donkey Kong 3
3 Galaxian
23 Dig Dug
43 Crush Roller
4 Mr. Do
24 Space Invaders
44 Pacman
5 Galaga3
25 Gyruss
45 Tank Battalion
6 1942
26 Ladybug
46 Burger Time
7 Mappy
27 Centipede
47 Millipede
8 JR Pacman
28 Pengo
48 Phoenix
9 Time Pilot
29 Super Cobra
49 Hustler
10 Space Panic
30 Super Breakout
50 New Rally X
11 Arkanoid
31 Qix
51 Juno Frist
12 Xevious
32 Mr. Do's Castle
52 Moon Cresta
13 Pinball Action
33 Scramble
53 Super Pacman
14 Bomb Jack
34 Shao-Lin`s Road
54 King & Balloon
15 1943
35 Van-Van Car
55 Pacman Plus
16 Dig Dug 2
36 Amidar
56 Zaxxon
17 Pooyan
37 Pleiads
57 Gun.Smoke
18 The End
38 1943 Kai
58 Congo Bongo
19 Jumping Jack
39 Ms. Pacman
59 Galaga
20 Pacman
40 Tr. Pacman
60 Pacman Plus